Phuket Holiday Coin (PHC) is a token that plans to become the currency used by tourists in the island of Phuket – Thailand. It's currently in the presale phase, which you can find on p2pb2b.io.
WHAT IS PHUKET HOLIDAY COIN ALL ABOUT?
According to the PHC Whitepaper, the team has built a platform that can "radically change the relationship between vacation and investment!"
At its core, PHC is an ERC20 and BEP20 token that users are able to stake. Moreover, the Phuket Holiday Coin team has created a personalized dashboard for users to stake their PHC and earn rewards.
THE PHUKET HOLIDAY COIN ECOSYSTEM
The PHC ecosystem consists of five sections: Staking, Multi Business Integrate Protocol, Exchange, Crypto Wallet, and POS (point of sale).
The vision is for investors to be able to take advantage of holidays and discounts all by using profit derived from staking their PHC coins.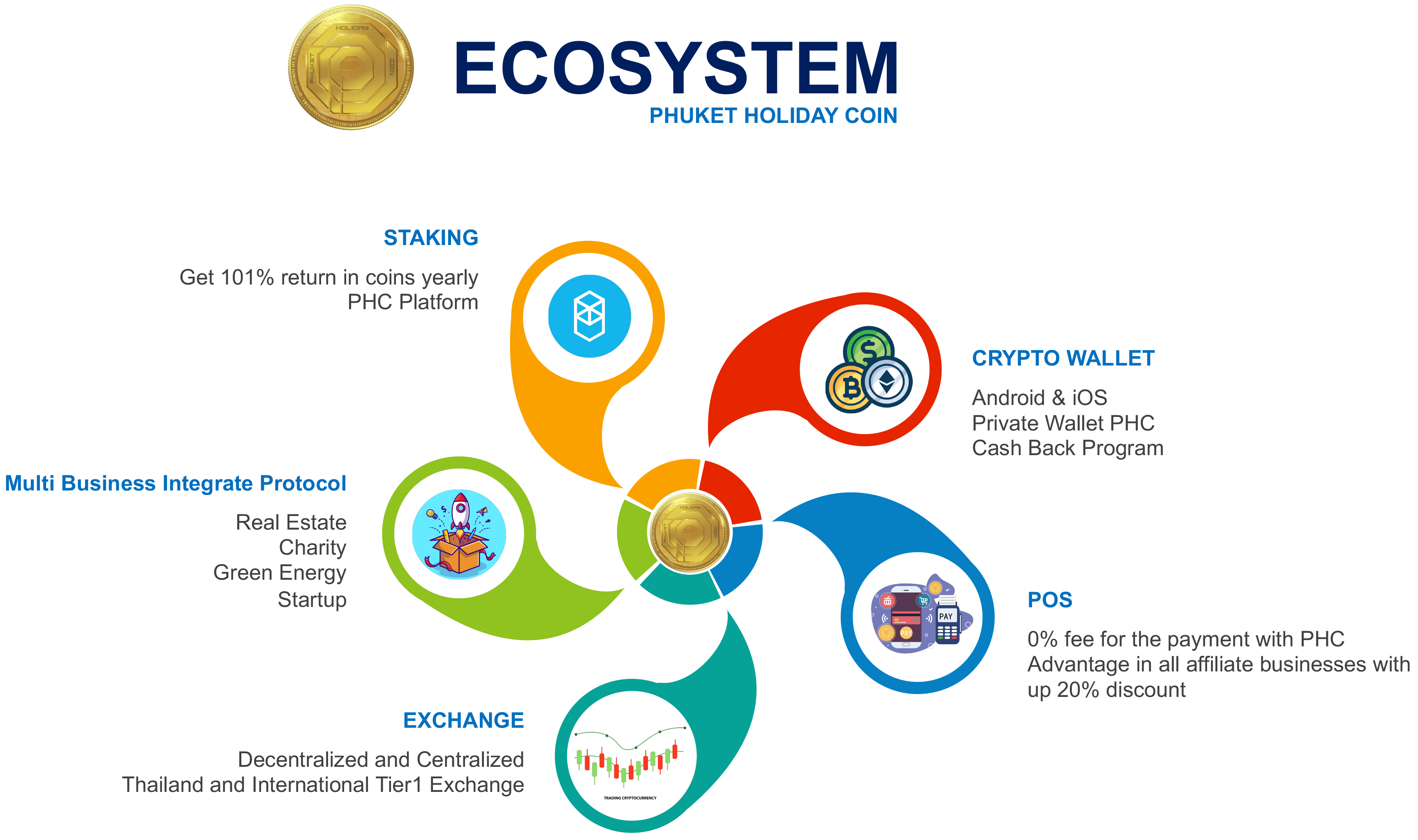 Moreover, Phuket Holiday Coin aims to install Point-Of-Sale devices for free in all affiliated places on the island, and all PHC token holders will be able to use their tokens to save on holiday expenses.
PHUKET HOLIDAY COIN TOKENOMICS
Currently there are two contracts associated with the Phuket Holiday Coin project, there's the ERC20 & BEP20 contract. That means that technically Phuket Holiday Coin is both an ERC20 and a BEP20 token.
According to their official website, PHC token allocation is as follows:

3% – Bounty
6% – M&D
10% – Team & Advisor
15% – Reserve Fund
21% – Hard Cap
45% – Staking Reward
TOKEN LOCK-UP PERIOD
There's also a lock-up period for tokens sold through private sales. According to the Phuket Holiday Coin whitepaper:
"Private sale tokens have a blocking period of 30 days from the listing date of the exchange for 25% of the total, 12 months for 50% and 24 months for the remaining 25%. In the event of multiple stock market listings, it will be counted from the first stock market listing date."
For team tokens, those will be locked up for 18 months.
WHERE TO BUY PHUKET HOLIDAY COIN?
Since the project is currently in the presale stage, the best place to purchase PHC would be on p2pb2b.io.
At the time of writing, you can purchase PHC via BTC, ETH or USDT.
Originally Published on The VR Soldier

None of the information on this website is investment or financial advice and does not necessarily reflect the views of CryptoMode or the author. CryptoMode is not responsible for any financial losses sustained by acting on information provided on this website by its authors or clients. Always conduct your research before making financial commitments, especially with third-party reviews, presales, and other opportunities.