The USM.world (Native Token: $RACA) ecosystem hit a new record of visitors on its metaverse and Web3-facing platforms. According to its month-end report, USM.world has had 829,599 visitors since its inception between Metamon Island, the United States of Mars (USM) metaverse, and the ecosystem's native NFT marketplace.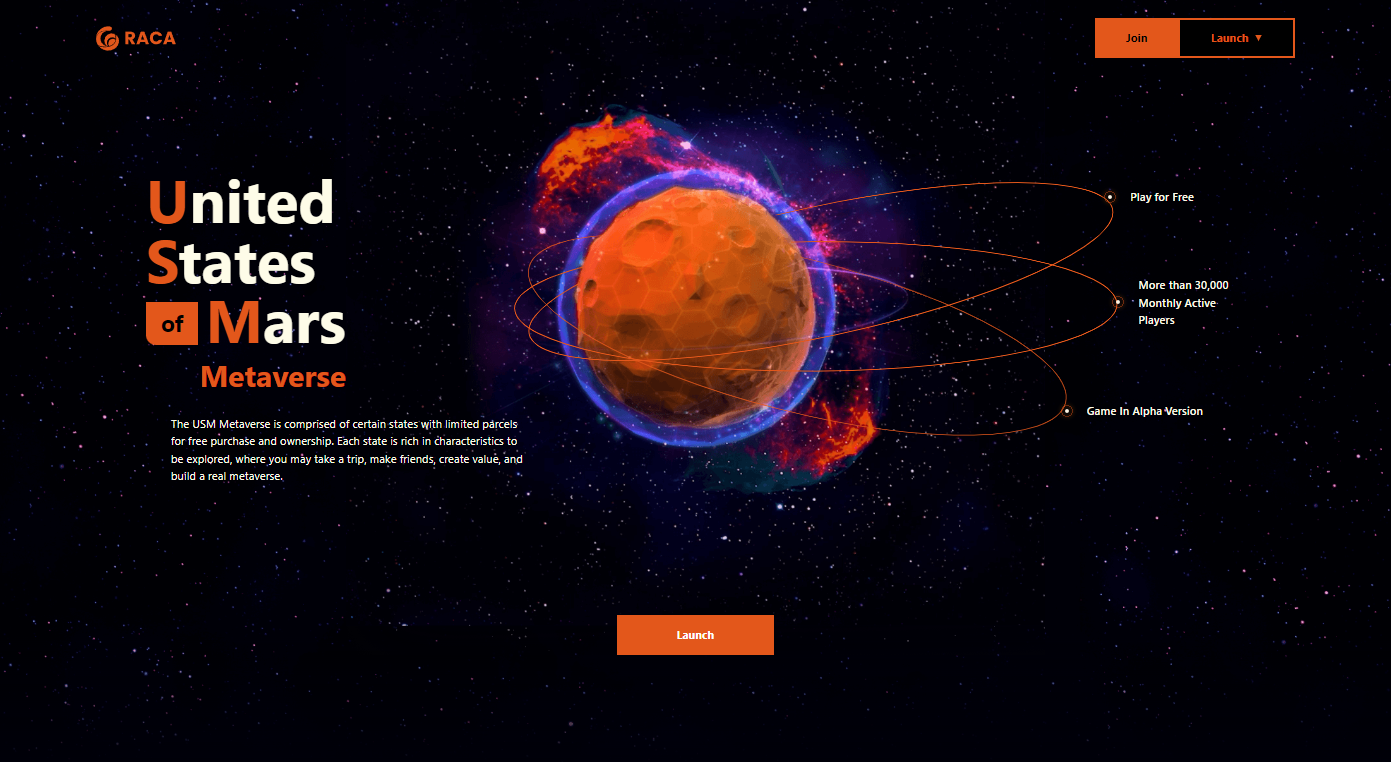 USM.world ($RACA) ecosystem has sustained substantial growth since launching last October, despite the bear market. The ecosystem continued to win over visitors due to its development and commitment to building a free ecosystem that enables the full potential of Web3.
USM metaverse grew over 20% in the last two months to more than 114,571 visitors. Metamon Island recorded more than 648,894 registered visitors.
"All this growth is driven by our efforts to build a metaverse for the community and expand the possibilities of knowledge, and enable the full potential of Web3. But more important than the data is the activity of our community in our ecosystem. Every day different activities are happening in different areas of USM, Metamon, and our marketplace. The passion of our community is what motivates us to create, develop and further improve our products," said Jeff Watney, USM visionary.
High community engagement is frequently seen in the new announcements of the USM.world ecosystem:
M-TP announced the launch of his partnership with USM.
We want it all and we will have them all! All of it 📣!
Metaverse Concert + Digital Homeland + Virtual Party + more!
The M-TP Galaxy is coming to USM 🚀 https://t.co/rCOOhsRLId

— USM Lab 📍🪐 (@USMverse) July 28, 2022
University of São Paulo (USP), the largest public university in Latin America, will build on the first-ever released SSR land in the USM (more details here)
Events
Announced the Live Seiyuu Concert with Aya Uchida, Anna Suzuki, and Emi Nitta on August 5th at 12:00 UTC (more information here).

Live Concert Beta at the USM Bowl (coordinates: "4650, 4350") with the singers, Mr. . Kiarash and JP Bacallan, on July 18th, 2022 (more information here).

Inaugural USM.world swimming competition in the lake at USM.world's Lassen Volcano (more details here)

First metaverse motorcycle race hosted in USM.world.

Mountain Climbing Competition in Lassen Volcanic National Park.
In addition, the movement of the USM.world community is also reflected in the trading numbers of the ecosystem, as in the case of Metamon, which already has more than US$ 2 billion in trading, being:
The total trading volume of Metamon Egg on all NFT marketplaces is 241B $RACA ($1.2B equivalent by daily $RACA closing value) with a total of 3.1M transactions as of July 31st, 2022.

The trading volume of the NFT marketplace inside Metamon Island was 65B $RACA ($89M equivalent by daily $RACA closing value) with a total of 6.6M transactions as of July 31st, 2022.
"These results show us that we are on the right track and that the key to the metaverse is decentralization and multichain connection between multiple platforms creating a gateway where the community can be free, so the community can explore diversity, explore freedom, explore all your imagination, being the sole owner of your assets in a world without borders. This is the story we are helping to build."
Disclosure: This is not trading or investment advice. Always do your research before buying any cryptocurrency or investing in any service.

CryptoMode produces high quality content for cryptocurrency companies. We have provided brand exposure for dozens of companies to date, and you can be one of them. All of our clients appreciate our value/pricing ratio. Contact us if you have any questions: [email protected] None of the information on this website is investment or financial advice. CryptoMode is not responsible for any financial losses sustained by acting on information provided on this website by its authors or clients. No reviews should be taken at face value, always conduct your research before making financial commitments.