Stellar Price Analysis (XLM/USD)
Over the past 24hrs XLM/USD pair has recorded a massive downward pressure.  The bear market rally seemed to have been supported by the 21 day MA that was seen most of the time gravitating above the 7 day MA. The RSI indicator was also seen below level 50 that signals a strong increase in sellouts.  In addition, the RSI indicator was almost encountered below level 30 at several instances that indicated oversold market condition.
Presence of a four-price Doji was also seen severally that showed that XLM market dealt with small number of transactions at that period of time.  The bearish pressure defined resistance level at $0.08947 and a key support level at $0.08697. The key support was later broken that placed XLM/USD pair to its current price value at $0.08509.  The pair's price declined from $0.09161 thus has an intraday dip of 7.1%.
However, the recent launch of StellarX mobile wallet that is meant for the iOS users.  This will maintain transparent connection with the supporting community. Perhaps, this could boost the price of XLM since investors will gain confidence in the coin.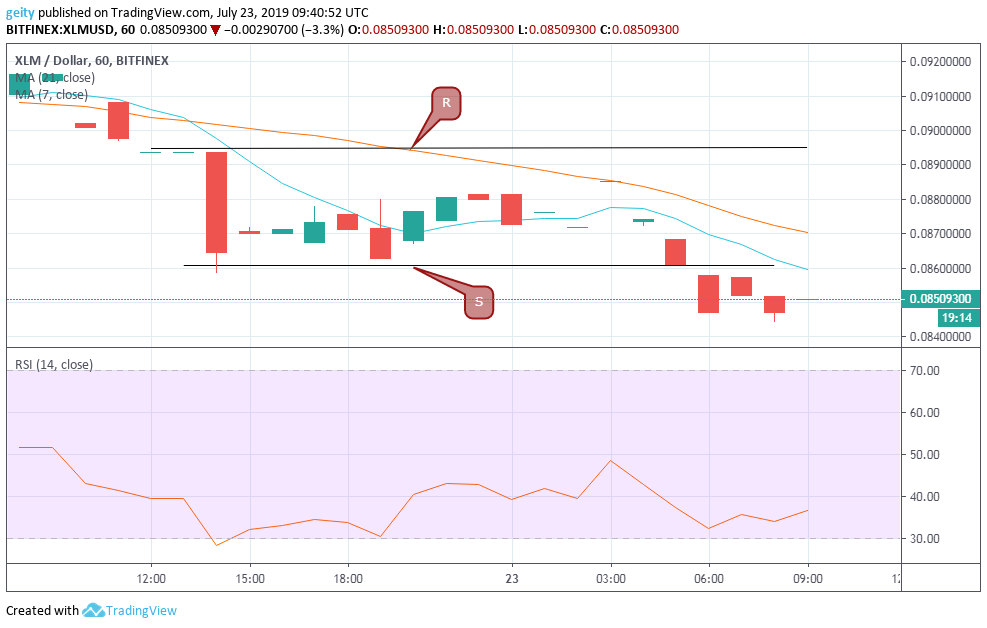 Stellar Price Prediction
At the moment, the RSI indicator has gained momentum, having moved from a low of 32 to a high of 38.  That indicates higher possibility of a Bull Run in the coming day. New targets should be set at $0.08800
Tron Price Analysis (TRX/USD)
TRX/USD pair has also recorded a massive bearish pressure over the last 24hrs. TRX has down surged by 15.3%, having declined from $0.02913 to its current value at $0.02468.  The coin has been consistently moving downwards throughout the intraday. 
The bearish pressure has been  bolstered by the 21 day MA that was seen gravitating above the 7 day MA.  The descending channels have also confirmed the downtrend. The Relative strength Index X indicator was also seen decreasing.  It moved from a high of 52 to a low of 25, which is below level 30 thus showed increase sellouts over the last 24hrs.
The dip in TRX price has negatively affected investor's sentiments due to reduce confidence in the coin.  This could perhaps be due to the resent report that accused Justine Sun of illegal fundraising that was done through his cryptocurrency projects.  It was also sad that the Tron network is also involved in illegal gambling services that are only accessible to the Chinese residence.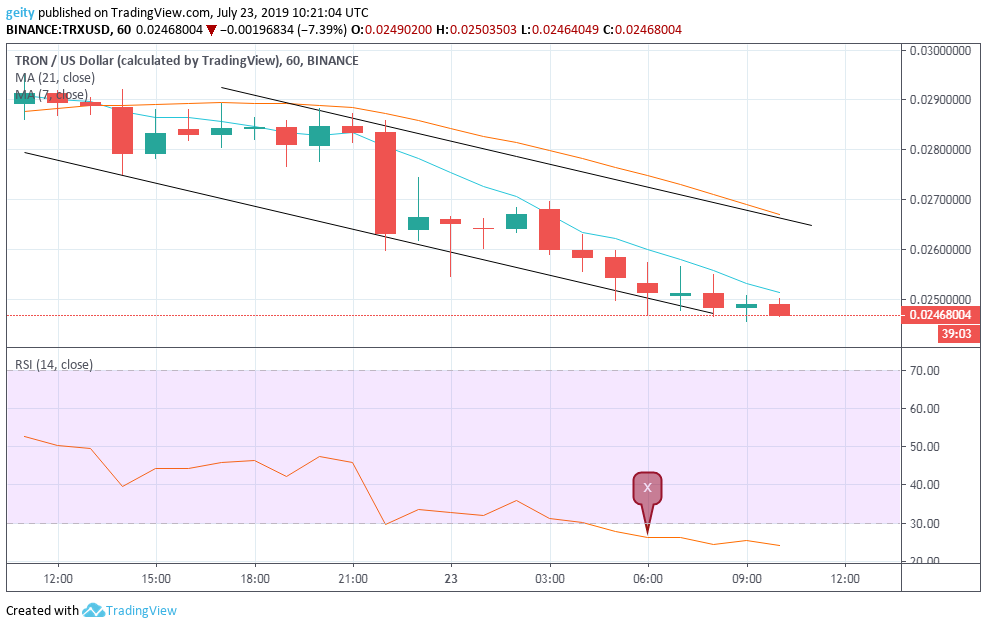 Tron Price Prediction
Currently, all indicators point at further bearish rally.  With the 21 day MA is above the 7 day MA and the RSI trading on the oversold territory.  Nevertheless, if the bulls up their game they are most likely to overcome the bear market rally.  New targets should be set at $0.02600
Cardano Price Analysis (ADA/USD)
ADA/USD has also experienced the downward pressure.  Is down by 8.2% since it started off at $0.06163 and massively declined to the current value of $0.056558.  The bear market lacked momentum below key support level $0.05823 whereby it placed temporary resistance level at $0.06109. 
The RSI indicator that dipped to a low of 27 from a high of 47 reflected the bearish pressure.  In addition, the 21 day MA was seen hovering above the 7 day MA that signaled a bearish sign. The support level was later broken and was moved down to $0.05600 that signaled increase sellouts.
The RSI indicator is currently heading north which indicates the unwillingness of investors to go short in anticipation for much better price.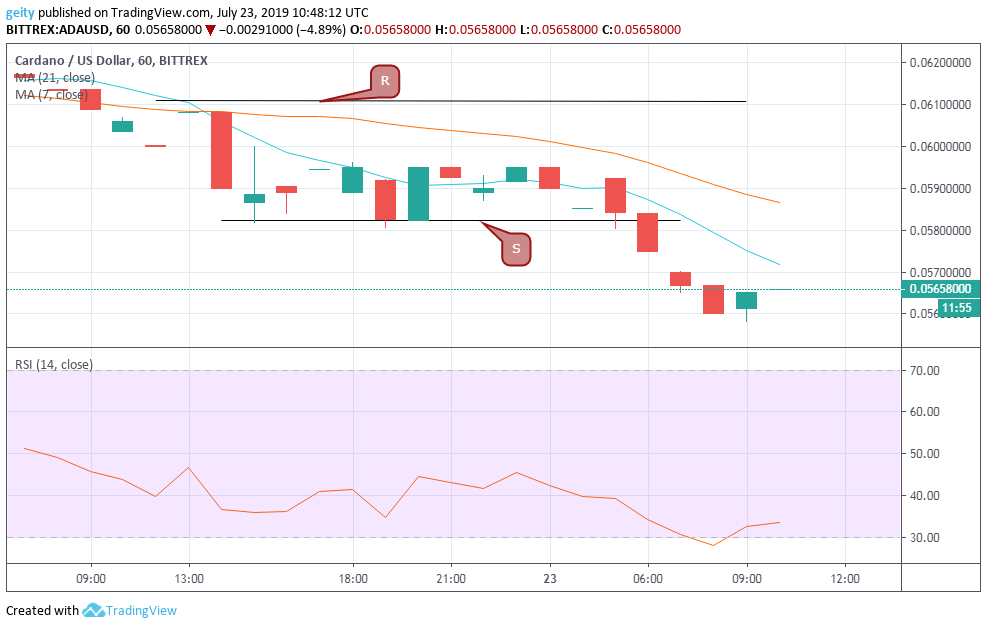 Cardano Price Analysis
The 21 day MA is still above the 7 day MA that signals further downward pressure.  ADA is likely to foresee a short-term consolidation period before a breakout. New target should be set at $0.05500.
---
Cryptocurrency Charts By Tradingview
Disclaimer: This is not trading or investment advice. The above article is for entertainment and education purposes only. Please do your own research before purchasing or investing into any cryptocurrency or digital currency.

CryptoMode produces high quality content for cryptocurrency companies. We have provided brand exposure for dozens of companies to date, and you can be one of them. All of our clients appreciate our value/pricing ratio. Contact us if you have any questions: [email protected] None of the information on this website is investment or financial advice. CryptoMode is not responsible for any financial losses sustained by acting on information provided on this website by its authors or clients. No reviews should be taken at face value, always conduct your research before making financial commitments.