Have you ever dreamed about the perfect placement of links that will contribute to the growth of your audience? There are the ways that are most consistent with search engines' link profile policy, which states that links should appear naturally. In addition, they must be placed on trustworthy resources, and the content must be appropriate.
The most profitable link-building methods are sometimes difficult to implement, and they require time and resources. Nevertheless, they always bring the best results. Among the most effective and popular strategies are crowd marketing, guest posting, submissions, outreach, and tiered link building. Let us consider each of them and look closer at the features of their successful implementation.
Guest Postinguilding
Guest posting is an outreach technique for promoting any websites, services, and products. The specialist establishes communication with website owners or other publishers and places content on their web resources. Most often, such content is created in the form of a post: for example, a guest post on Instagram.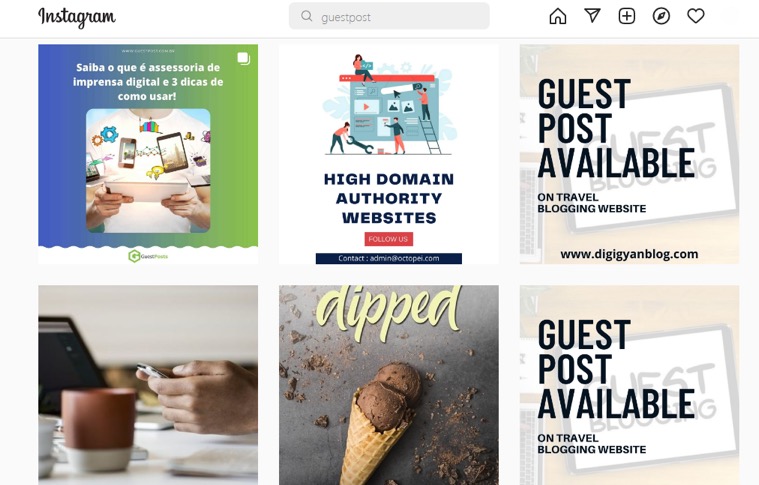 However, when it comes to a long-term reputation-building strategy, guest posting services are a great tool. If the customer and the SEO specialist have jointly chosen this promotion technique, two main tasks appear:
Get content: quickly, a lot, high-quality, on time, and at a reasonable price.
Post content: safely and efficiently.
The main tasks that guest posts solve:
Developing reputation and brand awareness.
Driving traffic to the site.
Building backlinks.
If you choose the right content and place it on the right websites, you can accomplish all three tasks. For the first two, blogs with a large active audience are better suited. For the third (outreach links), you should choose websites with high domain authority.
Outreach
Outreach is a method that implies the process when links to trust resources are placed through direct agreements with website owners.
Some experts define outreach as a shareware method of obtaining links. However, this is one of the most expensive methods, especially in the Western market: it includes the cost of email marketing services (statistics, sending letters to owners of trust resources), specialists, and high-quality content (articles, infographics publishing on credible platforms).
Outreach content is a special expense because it must be unique, interesting to users, and useful a long time after publication.
Despite the costs, this way has proved efficient. The quality of the links is much higher than the crowd, submissions, and purchased options.
The process itself runs through the following stages:
Search for suitable resources and their collection.
Creation of the emails that you are going to send to the owners of these resources.
Proper distribution of these emails and control over this process.
Building chains of letters and communication with all people who can join the process.
Creation of content with necessary links and its publication on the chosen platforms.
The better the communication with the owners of the resource, the higher will be the obtained results. The environment for this purpose is competitive. Therefore, writing a letter that people will definitely open, read, and respond to can be called an art. In addition to understanding the methodology for writing such letters, this work requires copywriting skills.
Things to consider when creating a newsletter template:
Personalize the subject and address in the letter. Addressing by name is not only a rule of etiquette but also a manifestation of respect for the interlocutor.
Be polite because if the letter contains only dry requirements, it will end up in the trash with a high degree of probability.
Show interest and make it clear that you are familiar with the platform and materials on it, interested in publications, and can evaluate the strengths and weaknesses of the content.
Show value for the resource and expertise, offer suitable materials, and demonstrate an interest in mutually beneficial cooperation.
Avoid spelling, lexical, and punctuation errors.
Quality content is another valuable success factor. The requirements for the content posted on the donor site along with the link are much higher than for the content that is already placed there. After all, the purpose of such placement is to attract the audience, motivate them to share content on social networks and other platforms, and click on the link and not be dissatisfied with this action.
Content created using a data-driven approach is becoming popular. It is based on the analysis of user data and is considered more effective and engaging.
In the coming years, the trend of using such content will only intensify, so it makes sense to start mastering this technology now. The result of the good implementation of this strategy is a valuable link, which only grows over time and brings an interested audience to you.
Crowd Marketing
This is a method of posting links on blogs, forums, and question and answer (Q&A) sites by creating profiles and communicating with the audience.
Crowd marketing is not only about SEO but also about growing the interest in the product and the brand as a whole.
This is what makes it interesting since it performs several functions at once:
Dilutes the link profile.
Attracts traffic.
Improves behavioral factors.
Enhances audience loyalty, brand awareness, and company reputation.
Crowd links are effective and shareware, so they are actively used. For example, popular Quora and Reddit platforms are a must-have for a link builder who works with the Western market.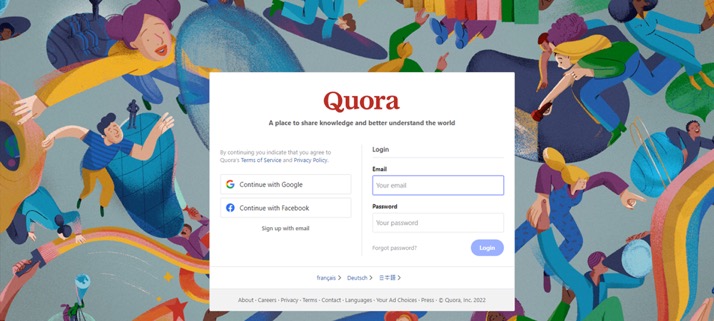 Crowd links can be obtained either independently or outsourced to manage this area. Therefore, there are services that are engaged in the extraction of crowd links professionally.
However, if crowd marketing is used not only as links for the sake of their creation but as part of a marketing strategy, it is better to hire a specialist who will maintain profiles on sites and communicate with the audience on an ongoing basis.
Submissions
The idea of the submission method is to register in all kinds of directories, on review sites, social networks, and other similar resources.
High-quality submissions not only help to enhance the link profile and credibility of the resource, but they are also quite useful for brand awareness. With crowd links, this strategy is shareware.
This method can be implemented in different ways, starting from simple paths and ending with complex ones. First, you can create empty profiles with a link to the promoted site or one-time materials for link mining. In addition, you can utilize submissions as part of a full-fledged marketing strategy:
Promotion of companies, products, and brands on social media is carried out by SMM specialists.
YouTube acts as an independent platform for attracting an audience.
Working with reviews and objections from reviewers affects the loyalty of the audience and the improvement of the product as a whole.
Audio podcasts are growing in popularity and are beginning to contribute to the proper advertising of the business as a whole.
Tiered Link Building
As already mentioned, links are different in terms of juice. The better the resource utilized for posting them, the greater the link juice and the higher the position of the resource in search results.
If it is developing, the performance grows, its position becomes higher, and the value of the link grows over time. It is the same with the page itself: the more it is cited, the more juice it transfers to your resource.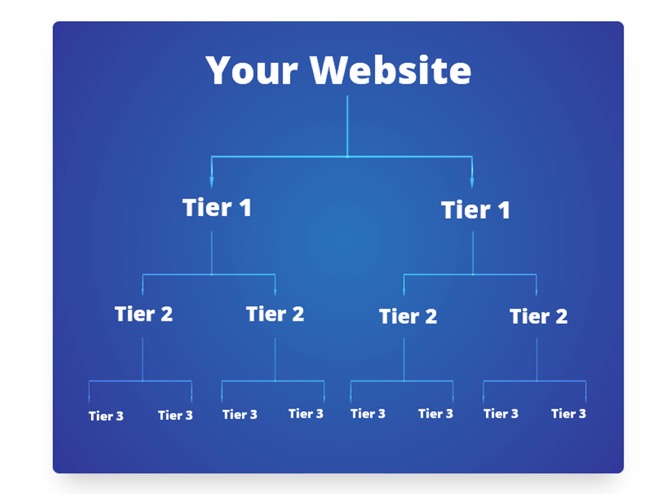 The idea of tiered links is built on the following principles:
The platform is white-linked from an authoritative trusted resource, for example, an outreach link, a guest post link, or a press release.
3-4 links of the second tier are placed on the page with it.
Each second-tier link is also affixed with third-tier links.
Third-tier links are affixed with new ones, and so on.
As a result, the first-tier link becomes more authoritative according to the Internet algorithms since the page with this link receives recommendations from other platforms. This link begins to work in full force, and depending on the quality, it can reveal its potential up to 100%.
The number of links that can be placed on each of the tiers grows within a ratio of 1 to 10. If one link is placed on the first tier, 10 is placed on the second tier, 100 on the third, and so on. Sounds great and works also good if done with the proper quality.
Requirements for the quality of links and sources decrease with each new tier. That means content can be rewritten and copied; crowd, submissions are used, and it is also possible to use so-called gray sources.
Goals of the tiered link-building method:
The concentration of a large link juice on the necessary pages to effectively promote them.
Revealing the maximum potential of what you do.
The method has the following special features:
Suitable for young and old platforms.
Safe and does not lead to link burst because links of different tiers lead to distinct pages.
The higher the link tier, the lower the content and placement requirements.
When extracting links, combinations of various methods are used, including gray ones.
Effective even in difficult cases of advertising.
It is quite effective in cases where conventional methods do not work, although it can be called conditionally white-hat since links of the third tier and above can be obtained by gray-hat methods.
Getting white-hat authority links that have search engine power and drive real traffic is a complex and costly process. Even shareware links, the placement of which on a web resource is free in itself, have their own budget: the cost of services, the work of a team of specialists such as copywriters, designers, link builders, etc.
In a nutshell, one can choose only one strategy or utilize a combination of them. At first, it is important to state the goals clearly and understand what result you want to obtain. That will lead to the right choice of the link-building strategy and its successful implementation. Do not hesitate to try different options to select the most suitable one and get as many benefits as you can from this instrument.

CryptoMode produces high quality content for cryptocurrency companies. We have provided brand exposure for dozens of companies to date, and you can be one of them. All of our clients appreciate our value/pricing ratio. Contact us if you have any questions: [email protected] None of the information on this website is investment or financial advice. CryptoMode is not responsible for any financial losses sustained by acting on information provided on this website by its authors or clients. No reviews should be taken at face value, always conduct your research before making financial commitments.