NEO Price Analysis (NEO/USD)
During the last 24hrs, NEO/USD pair went down by 0.9%, having moved from $17.5100 to the current price rate of $17.3556.  The bearish outlook was supported by the 21 day MA that was seen gravitating above the 7 day MA that signaled a bearish rally
The markets sow a sideways price movement that was reflected by the RSI that was hovering between level 60 and 40.  This placed resistance level at $17.6260 and support level at $17.1006 with a circulating supply of $70,538,831 coins in the last 24hrs.
Despite a bearish outlook, the price of NEO is likely to go bullish due to the new NEO's Dgamemaker platform that provided game lovers a chance to practice their skills in game development.  As the growing gaming community expands, explore their interest in gaming the current market performance of NEO is likely to benefit.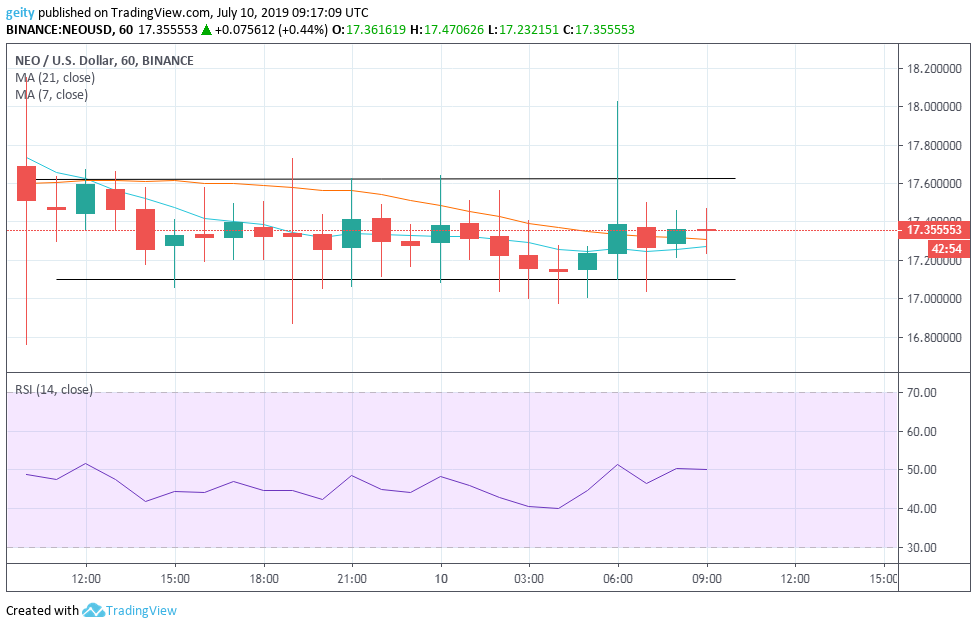 NEO Price Prediction
At the moment, the 21 day MA and the 7 day MA are tending towards each other.  The 7 day MA looks set to cross the 21 day MA that indicates a bullish sign. New target should be set at $17.6000.
Cardano Price Analysis (ADA/USD)
ADA has undergone a bearish outlook in the last 24hrs.  The descending channels confirmed the bearish rally. The 21 day MA is also seen above the 7 day MA that indicated a downtrend.  The RSI indicator X has dropped from a high of 48.20 to a low of 27.50, which showed that the market is currently on an oversold territory.
Following a strong sell-off that took place late June, the pair's price has dipped by 4.3% over the last 24hrs, having moved from $0.079304 to $0.075876.  The bears seemed to have taken control over the market momentum, thus resulted in increasing sellouts.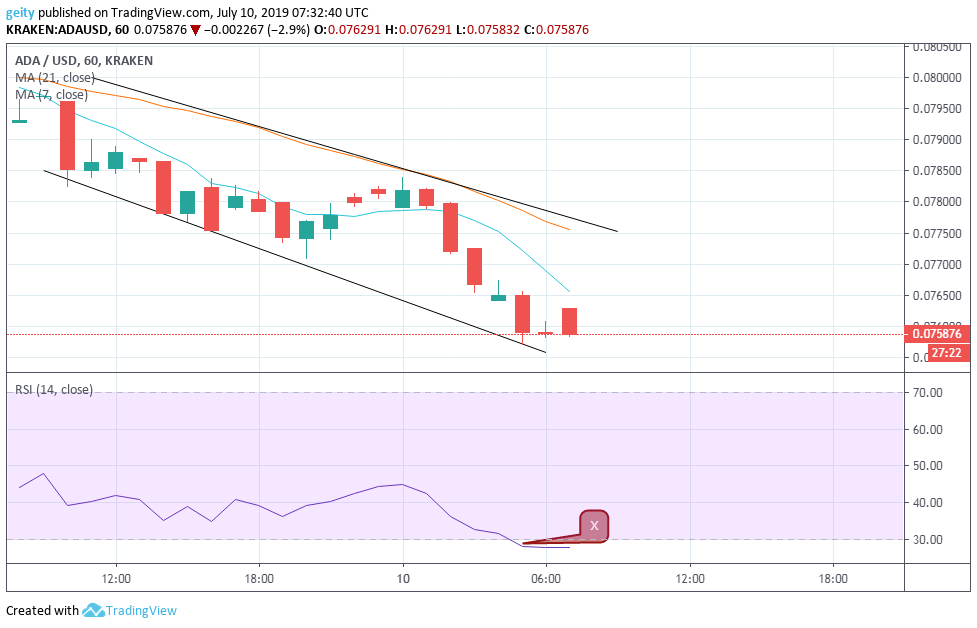 Cardano Price Prediction
Despite a generally bearish outlook, the RSI is currently trading flat which, indicates a lack of momentum in the market.  Nevertheless, a bullish rally is likely to be seen if the bulls up there move. New targets should be stood at $0.07800.
Monero Price Analysis (XMR/USD)
XMR/USD is down by 2.16 over the last 24hrs.  It started trading at $103.22 and is currently trading at $100.99.  This was followed by a short-term period of consolidation that placed support at $101.57.  A breakdown was later seen at around 20:00, that dipped the price down to a low of $97.77.  
The RSI indicator X reflected the downtrend since it dipped sharply to a low of 31.50 before it rose up to a high of 52.17.  The bearish signal was supported by the 21 day MA that was seen above the 7 day MA. Currently, the RSI is heading north, which shows the reluctance of investors to sell their XMR coin in anticipation for better prices.  The fall of XMR price may be due to the recent reveals of Monero's blockchain security vulnerabilities. This allowed miners to access certain crafted blocks that forced the Monero Wallet to allow fake deposits for an XMR amount.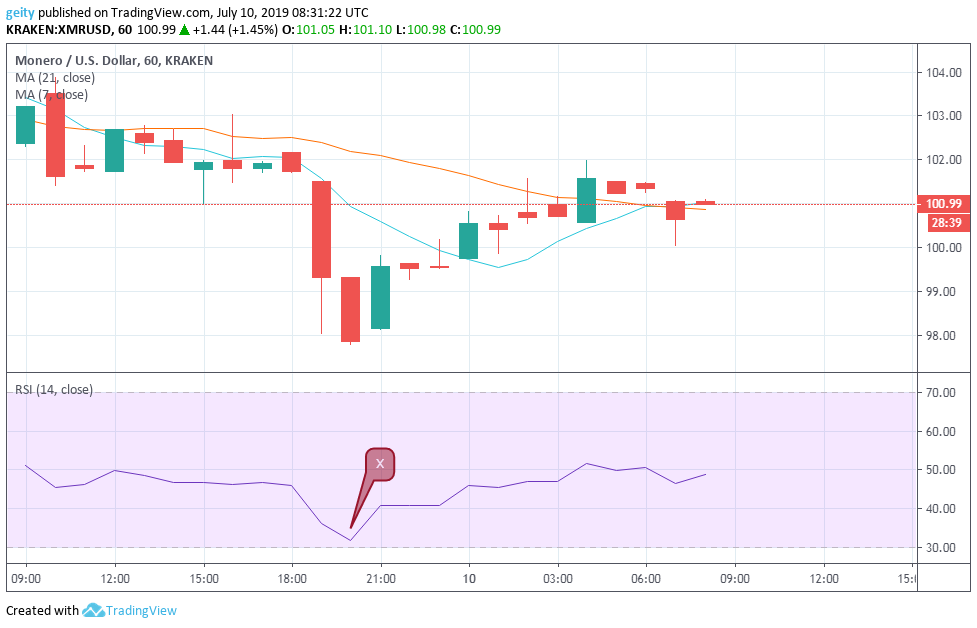 Monero Price Prediction
Currently, all the indicators point towards a bullish rally.  The 7 day MA has crossed over the 21 day MA, and the RSI is heading north that indicates a bullish signal.  New targets should be set at $102.05.
Cryptocurrency Charts By Tradingview
Disclaimer: This is not trading or investment advice. The above article is for entertainment and education purposes only. Please do your own research before purchasing or investing into any cryptocurrency or digital currency.

None of the information on this website is investment or financial advice and does not necessarily reflect the views of CryptoMode or the author. CryptoMode is not responsible for any financial losses sustained by acting on information provided on this website by its authors or clients. Always conduct your research before making financial commitments, especially with third-party reviews, presales, and other opportunities.