With the help of a GetBlock blockchain explorer users gain access to the most recent blockchain metrics, consisting of both basic and advanced information. GetBlock has recently launched NEAR Explorer in collaboration with its long-term partner NEAR Protocol.
What is the NEAR Protocol?
NEAR Protocol is a sharded Proof-of-Stake layer 1 network for building decentralized applications. Launched in 2020, the platform quickly grew in popularity among users and investors for a number of reasons. For instance, the network can handle up to 100.000 TPS, which results in unmatched scalability. What's more, NEAR Protocol offers extremely low fees and is able to finalize transactions in ~1 second – an incredible result in comparison to its main market competitors.
NEAR is the native token of the platform and is the leading instrument for supplying fast and reliable services. The token is available on most major exchanges, including Coinbase, Binance, KuCoin, etc.
NEAR supports JavaScript and Rust programming languages. Besides, users can utilize EVM-based Solidity to create dApps, thanks to Aurora – an EVM-based network developed by the NEAR team and designed to deliver NEAR benefits for Solidity developers.
In addition, NEAR Protocol is often referred to as one of the fastest-growing "Ethereum killers" offering top-notch speed and security for its users.
NEAR Protocol sharding
Sharding, i.e. splitting the blockchain into parallel sub-chains and dividing the work between them, helps increase the NEAR's capacity and scalability. In fact, the network utilizes its own variation of sharding called Nightshade – in which validators handle transactions from interconnected sharded chains.
The project's development team highlights the robustness of the Nightshade sharding model. Unlike other splitting mechanisms, Nightshade ensures that each block contains all transaction data from all the shards; however, participants are only required to download state data – divided into chunks – corresponding to the shards they validate.
NEAR blockchain explorer
NEAR blockchain explorer, developed by GetBlock in collaboration with the NEAR team, is a graphic dashboard, through which users can scan the blockchain's most recent parameters. What this means is that GetBlock clients can now benefit from this tracker by checking block history, block height, hash rate, wallet balance, transaction status, validator sets, and so on – all of this is done and delivered to each user in a couple of clicks.
NEAR explorer's user-friendly interface and top-quality accuracy are set to appeal to all kinds of crypto enthusiasts. Hence why, this blockchain explorer is a popular service among regular GetBlock customers. Let's take a quick look at some of the features available via NEAR explorer:
The Dashboard is a one-stop blockchain advanced and basic metrics provider:
The Validators folder shows such parameters as validating sets, total supply, total stake, etc.:
In the Blocks folder users can see block-related data, as shown on the screenshot: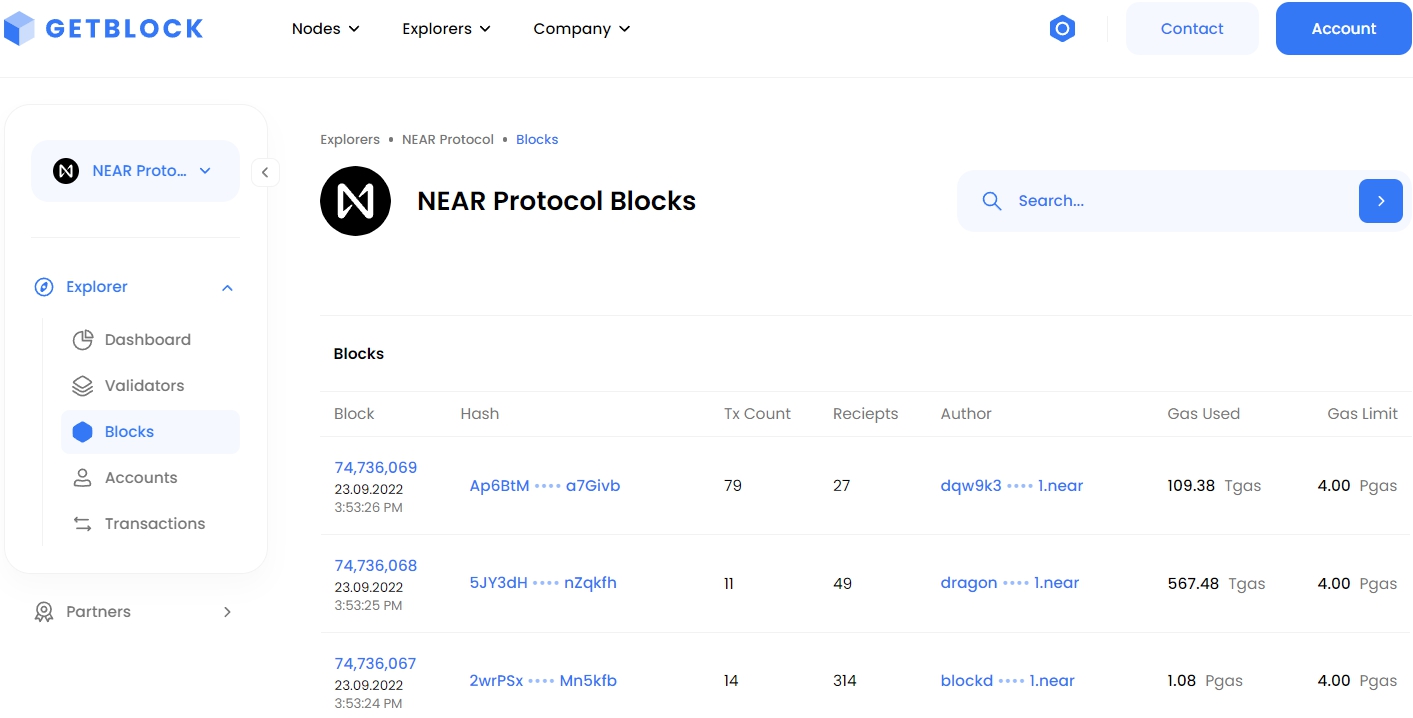 The Accounts section is there to show active accounts on NEAR, their balances and validator stakes, etc.:
Last but definitely not least, Transactions show the latest transactions data, including sender and receiver, hash number, deposit value, etc.
GetBlock users get updates on new additions in an instantaneous manner. Besides, the data provided to the service participants is of ultimate accuracy.
GetBlock's blockchain explorer is easily integrated into everyday use, thanks to its easy-to-use layout for both crypto beginners and professionals. The platform's development team points out that NEAR explorer is seamless to browse through and navigate.
Conclusion
"Ethereum Killer", NEAR Protocol is an innovation-driven community with a cutting-edge technological approach that has helped the project in establishing a well-deserved reputation among other blockchain-based networks. To increase its mass adoption and recognition, NEAR collaborates with various web3 platforms, including a blockchain-as-a-service provider for 40+ chains – GetBlock.
Thanks to this productive partnership, GetBlock has recently launched the NEAR explorer designed by industry professionals. This blockchain explorer can help users in checking the status of their transactions and/or the authenticity of their tokens, and so on.

None of the information on this website is investment or financial advice and does not necessarily reflect the views of CryptoMode or the author. CryptoMode is not responsible for any financial losses sustained by acting on information provided on this website by its authors or clients. Always conduct your research before making financial commitments, especially with third-party reviews, presales, and other opportunities.