Cardano Price Analysis (ADA/USD)
The price of ADA/USD pair has recorded an impressive price recovery over the intraday.  The price-performance is bullish with an upsurge gain of 11%. The market escalated from where it closed yesterday at $0.04719 where it is currently trading at $0.05027.
Additionally, the market began the session with a bullish pressure that sharply shifted the momentum up to rally at a high of $0.05126.  The RSI indicator that moved at around 08:30 to 17:00 up from a low of 50 to a high of 78, which is marked as a positive zone reflected the upward pressure.
A lack of dominance was later seen that was reflected by the sideways price momentum that consolidated between the key resistance level $0.05090 and support level $0.05001.  Additionally, the RSI indicator is at the press time heading north and is above level 50 that signals a bullish outlook. A breakout above $0.05010 could confirm an upward price rally.
Cardano Price Prediction (ADA/USD)
Currently, the moving averages are converging, and the 21 day MA looks set to cross above the 7 day MA that signals a bearish outlook.  New targets should be set at $0.49000.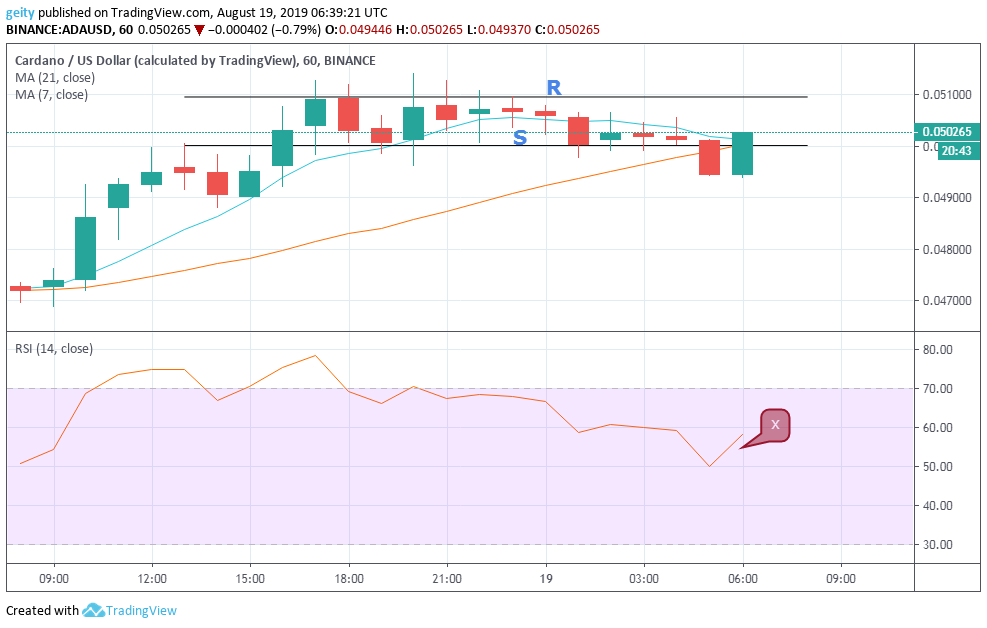 EOS Price Analysis (EOS/USD)
EOS market has also recorded a bullish performance over the last 24hrs.  It has gained by more than 5% on an intraday chart. The bullish momentum seemed to have been supported by the 7 day MA that gravitated above the 21 day MA almost throughout the last 24hrs.
The famous crypto escalated from $3.5348 to $3.7550.  The northward recovery was seen after the market saw a short-term upward rally.  That pushed the price up to a high of $3.6869 before it embarked to a steady flow that defined the current price at $3.7550.
Price recovery was also reflected by the RSI indicator X that is at the moment tending towards the north that indicate an increase in buyouts, which is a bullish sign.  Resistance level was thereby defined at $3.7499 and support level at $3.6775. They were both tested severally. A breakout near $3.8000 level might mark a new healthy bullish outlook.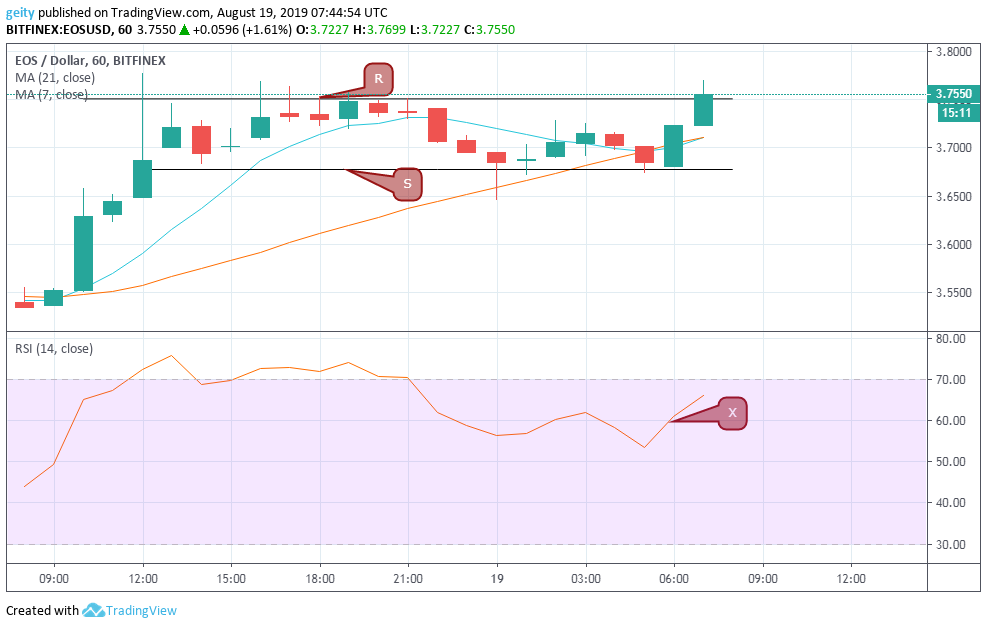 EOS Price Prediction (EOS/USD)
At the moment, the moving averages are also converging with the 21 day MA heading north and is likely to cross above the 7 day MA that signal incoming bearish pressure.  If the price breaks below $3.6500, traders should go short and take profit at $3.5500.
Ripple's XRP Price Analysis (XRP/USD)
The bulls seemed to have also taken over XRP market momentum.  XRP/USD pair moved with the assistance from a bullish engulfing pattern that shifted the price up to close at $0.2860.  Support level $0.2801 was broken that confirmed the price recovery.
The upward momentum was reflected by the RSI indicator X that was seen above the positive zone from 09:00 to 18:00.  The RSI indicator later declines to a low of 60 that signaled a reduce in buyouts. Additionally, the resistance level was tested near $0.2919.  The price, however, showed no attempt to breach resistance level that confirmed the bulls have relaxed.
The market is currently lacking dominance as reflected by the RSI indicator that is now hovering between level 70 and 50.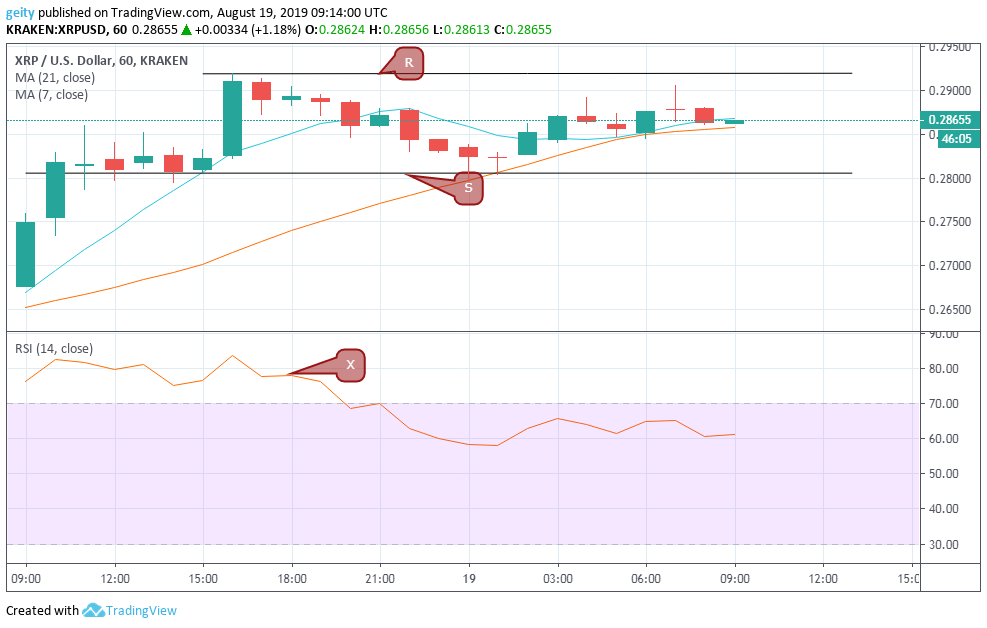 Ripple's XRP Price Prediction (XRP/USD)
All the indicators point at a further bullish outlook, the 7 day MA has crossed above the 21 day MA.  The RSI indicator is also above level 50 that signals a positive sign. Nevertheless, if the price struggles to climb above the $0.2900 and successfully manage, it could pump the momentum further up to $0.3000.
Cryptocurrency Charts By Tradingview
Disclaimer: This is not trading or investment advice. The above article is for entertainment and education purposes only. Please do your own research before purchasing or investing into any cryptocurrency or digital currency.

CryptoMode produces high quality content for cryptocurrency companies. We have provided brand exposure for dozens of companies to date, and you can be one of them. All of our clients appreciate our value/pricing ratio. Contact us if you have any questions: [email protected] None of the information on this website is investment or financial advice. CryptoMode is not responsible for any financial losses sustained by acting on information provided on this website by its authors or clients. No reviews should be taken at face value, always conduct your research before making financial commitments.